Home
---
About Us
---
Projects
---
Date-Book
---
Archive / Museum
---
Impressum
---
German Pages

Scale Modelling


| | |
| --- | --- |
| | In many cases historical scenes and objects can only be made clear to the visitor of the museum by a reproduction in a model. Be it that originals no longer exist or that they are simply too big and immense. In these cases the only choice is to build a model. |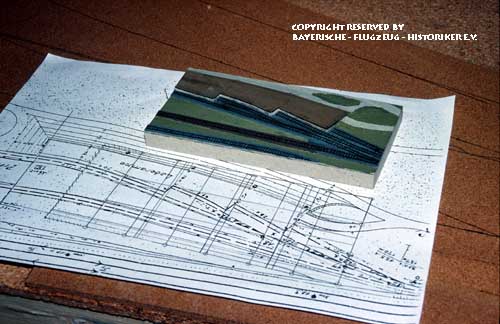 Complex dioramas are preproduced as a tiny model according to the original documents
to check dimensions and scene before the actual construction starts.



| | |
| --- | --- |
| | The models are selected, designed and built in close coordination with project-members of other disciplines such as aeronautical history, archaeology, restoration and classification of historical monuments. Basis for these models usually are historical pictures and plans. Wherever possible, contemporary witnesses are interviewed. The material is then interpreted and where necessary completed by own research and studies. Finally the building of the models can start. |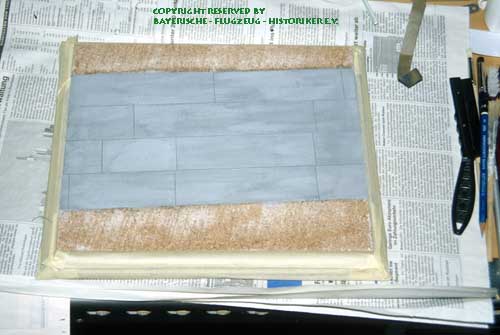 Base plate for a small diorama under construction: Section of a taxiway.
Size and arrangement of the concrete tiles was surveyed precisely on a Bavarian airfield.
The concrete of the model is made from colored plaster.



| | |
| --- | --- |
| | In many cases common model kits can be used completely or in parts. In some cases though models have to be built from the scratch. Building a simple model takes about 20 h, a complex diorama will take aprox. 5000 h of work on average. From the idea to the completion of bigger dioramas several years will pass by. |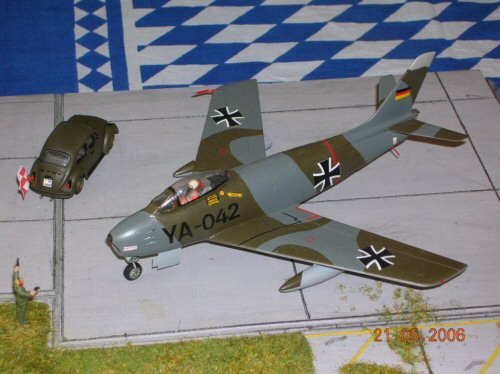 Fighter Canadair CL-13B Sabre of the ErpSt 61, Manching, 1964, in the 1:72 scale.
The airplane model comes from a common model kit which was modified in some parts.
The foundation plate is completely self-constructed, built from wood, cork, plaster etc.



| | |
| --- | --- |
| | The completed models normally are displayed in the Flugwerft Schleissheim, in the permanent exhibition about the history of Oberschleissheim airfield. Furthermore we participate in model exhibitions two or three times a year to present the history of aviaton in Bavaria. |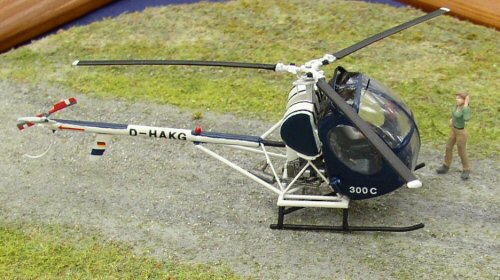 Helicopter Hughes H-300, Ikarus e.V., Oberschleißheim, 1988, in the 1:72 scale
A lot of photographs were taken of the original helicopter to produce an exact scale model.
Aircraft of the General Aviation are a marginal topic in scale modelling, therefore the
build of such a model is difficult. Kits are rare and the decals are special made.